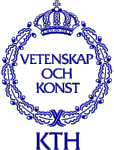 CONFER-2 Workshop
Stockholm, June 13-14, 2000
Call for Contributions and Participation
The spring CONFER-2 workshop will take place on KTH campus in Stockholm on June 13-14, arranged by KTH and SICS in collaboration. Joachim Parrow will be responsible for the scientific programme and Mads Dam for local arrangements.
For hotel reservations please email janc@sics.se your arrival and departure dates and special wishes in case you have any (like accompanying family, price range, or whatever). If you don't give any special indications we will try to find you a "standard" room. Expect that this will put you back maybe 1000 sek/night.
If you are planning a talk please send title and abstract to Bjorn.Victor@DoCS.UU.SE.
If you have already responded to Bjorn, but need hotel accomodation, please email janc@sics.se as per above ASAP.

You can find a preliminary programme and lists of attendants and talks here.

The workshop will be followed on June 15-16 by a workshop on Security, Middleware and Languages, arranged by Mads Dam.
Location
The workshop will take place at the Royal Institute of Technology (KTH), Room D41, Lindstedtsvägen 17, Stockholm. The subway station "Tekniska högskolan" is the nearest (the "T" next to "Östra station" on the map of KTH campus).

Finding it:

Stockholm tourist information:
---