URDME simulating Turing patterns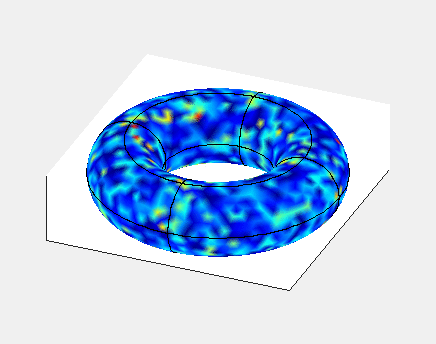 The above animation displays the dynamics until approximate equilibirum of the Schnakenberg model, a model which develops Turing patterns. Here spots of the morphogen are seen to be developed; in the formulation above the reaction-diffusion system is interpreted in a stochastic sense and the noise is seen to cause the pattern to fluctuate somewhat at the end of the simulation.


References
The numerical method employed in the simulation was described in S. Engblom, L. Ferm, A. Hellander, Lötstedt: Simulation of Stochastic Reaction-Diffusion Processes on Unstructured Meshes , in SIAM J. Sci. Comput. 31(3):1774--1797, 2009: (doi).
The URDME software was further discussed in B. Drawert, S. Engblom, and A. Hellander: URDME: a modular framework for stochastic simulation of reaction-transport processes in complex geometries in BMC Syst. Biol. 6(76):1--17, 2012: (doi).
The Schnakenberg and other models were implemented and solved in URDME in Y. Saygun: Computational Stochastic Morphogenesis, Master's thesis, 2015.
---
Stefan Engblom Last modified: Thu March 16 16:53:56 MEST 2017