Current research projects (2018), Robin Strand
See also projects from the CBA Annual Report.
<![if !vml]>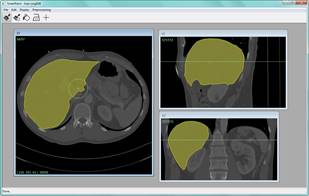 <![endif]>Interactive image processing
Digital imaging technique such as whole-slide scanning, computed tomography (CT) and magnetic resonance imaging (MRI ) are now routinely used in medicine. This has led to an ever increasing flow of high-resolution image data that needs to be qualitatively and quantitatively analyzed. We develop powerful new methods for interactive image processing (including quantification, segmentation and registration) in collaboration with medical experts.
Key references:
· Filip Malmberg, Richard Nordenskjöld, Robin Strand, and Joel Kullberg SmartPaint - A Tool for Interactive Segmentation of Medical Volume Images Computer Methods in Biomechanics and Biomedical Engineering: Imaging & Visualization, Volume 5, Issue 1, Pages 36-44, 2017
· Andreas Kårsnäs, Robin Strand, Johan Dore, Thomas Ebstrup, Michael Lippert, Kim Bjerrum A histopathological tool for quantification of biomarkers with subcellular Resolution Computer Methods in Biomechanics and Biomedical Engineering: Imaging & Visualization, Volume 3, Issue 1, 2015, Pages 25-46
· Andreas Kårsnäs and Robin Strand Multimodal histological image registration using locally rigid transforms In proceedings of Interactive Medical Image Computation (IMIC), MICCAI 2015 workshop, Munich
· Filip Malmberg, Robin Strand, Joel Kullberg Interactive Deformation of Volume Images for Image Registration In proceedings of Interactive Medical Image Computation (IMIC), MICCAI 2015 workshop, Munich
<![if !vml]>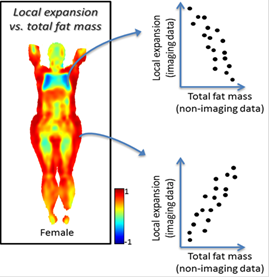 <![endif]>Large scale whole body image processing
PhD students: Simon Ekström, Therese Sjöholm, Eva Breznik, Martino Pilia
Imiomics is an image processing concept that consists of a set of methods, including image registration, that allow statistical and holistic analysis of whole-body image data and non-imaging data. Imiomics enables creation of a Human Imaging Atlas, a statistical representation of intra-group distributions of image features. Imiomics analyses are holistic for three reasons: 1) the whole body is analyzed, 2) all collected image data is used in the analysis, and 3) it allows integration of all other collected non-imaging patient information in the analysis. The image registration method used utilizes quantitative whole-body water-fat MRI data, a pre-segmentation of bone from these images, and tissue specific constraints in the registration process.1 Imiomics supports inclusion of other image data, such as DWI or PET, in the analysis. Potential applications of Imiomics include 1) to compare whole-body image feature between groups of for example sick and healthy subjects, 2) to follow changes in whole-body images in a subject over time, e.g. after intervention, 3) to assist attenuation correction in PET-MR where separation of bone and air is challenging, 4) to allow calculation of whole body images of point-by-point or tissue-by-tissue statistical interaction between imaging and non-imaging features, e.g. a correlation map between insulin levels and morphology like regional adipose tissue or muscle tissue volumes.
Key references:
· Robin Strand, Filip Malmberg, Lars Johansson, Lars Lind, Magnus Sundbom, Håkan Ahlström, Joel Kullberg A Concept for Holistic Whole Body MRI Data Analysis, Imiomics PLOS ONE 12(2): e0169966, 2017
· Joel Kullberg, Håkan Ahlström, Robin Strand, WHOLE BODY IMAGE REGISTRATION METHOD AND METHOD FOR ANALYZING IMAGES THEREOF Patent application WO 2016/072926
<![if !vml]>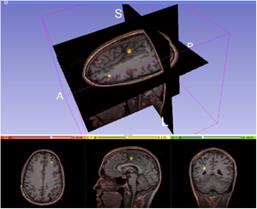 <![endif]>Subtle change detection
Post Doc: Ashis Kumar Dhara
In this project, semi-automatic tools for fast and precise magnetic resonance volume image processing and analysis will be developed for change detection in traumatic brain injury, neurodegenerative diseases including intracranial aneurysms and brain tumors.
Subtle change detection and quantification is a challenging problem due to limited resolution, partial volume effects, noise, artefacts, etc. Detection of small volumetric changes with high confidence is very important for diagnosis and for selection of, and to follow up the effect of, treatment.
Automatic or semi-automatic image processing methods are needed due to the difficulty to detect subtle volume changes by visual inspection.
Radiotherapy using integrated MR and Linac
PhD student: Samuel Fransson
A combined magnetic resonance scanner and radiotherapy treatment unit will be installed at Akademiska hospital in Uppsala during 2018. This will be one of the first installations in the world of this next generation radiotherapy treatment unit, developed by the Swedish company Elekta.
We develop software to support treatment of small treatment volumes moving in an irregular way. Examples of this kind of volume are the prostate gland, individual lymph nodes and radioresistent subvolumes within larger tumors.
<![if !vml]>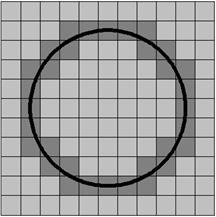 <![endif]>Digital geometry
In a wide sense, digital topology and geometry refers to the use of topologic and geometric properties and features for images defined in digital grids. Our research in this area focuses on methods where the theory and algorithms use the principles of digital path connectivity, path propagation, and neighborhood analysis, often by pixel adjacency graph representations. The methods are often developed for medical image processing applications.
Key references:
· Punam K. Saha, Robin Strand, Gunilla Borgefors Digital Topology and Geometry in Medical Imaging: A survey IEEE Transactions on Medical Imaging, Volume 34, Issue 9, 2015, Pages 1940-1964
· Robin Strand, Krzysztof C. Ciesielski, Filip Malmberg, Punam K. Saha The Minimum Barrier Distance Computer Vision and Image Understanding, Volume 117, Issue 4, 2013, Pages 429-437
· Robin Strand, Benedek Nagy and Gunilla Borgefors Digital Distance Functions on Three-Dimensional Grids Theoretical Computer Science, Volume 412, Issue 15, 2011, Pages 1350-1363
· Robin Strand Distance Functions and Image Processing on Point-Lattices With Focus on the 3D Face- and Body-centered Cubic Grids ACTA UNIVERSITATIS UPSALIENSIS Uppsala Dissertations from the Faculty of Science and Technology, ISSN 1104-2516; 79 ISBN 978-91-554-7303-7
<![if !vml]>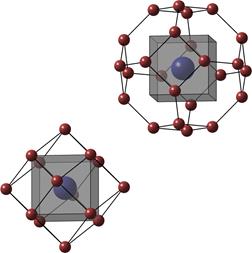 <![endif]>Alternative sampling grids
PhD students: Elisabeth Linnér (PhD 2015), Teo Asplund
When using optimal sampling grids, such as the 2D hexagonal or 3D fcc or bcc grids, fewer samples can be used to represent images with changing the reconstruction/representation quality. We develop methods for image acquisition, processing and visualization on high-dimensional, non-standard grids. Mathematical Morphology methods on irregular grids are also developed.
Key references:
· Robin Strand Distance Functions and Image Processing on Point-Lattices With Focus on the 3D Face- and Body-centered Cubic Grids ACTA UNIVERSITATIS UPSALIENSIS Uppsala Dissertations from the Faculty of Science and Technology, ISSN 1104-2516; 79 ISBN 978-91-554-7303-7
· Teo Asplund, Cris L. Luengo Hendriks, Matthew John Thurley, Robin Strand Mathematical Morphology on Irregularly Sampled Data in One Dimension Mathematical Morphology-Theory and Applications, Volume 2, Issue 1, Pages 1-24, 2017. DOI: https://doi.org/10.1515/mathm-2017-0001
· Céline Fouard, Robin Strand and Gunilla Borgefors Weighted Distance Transforms Generalized to Modules and their Computation on Point Lattices Pattern Recognition, Volume 40, Issue 9, September 2007, pages 2453-2474
· Elisabeth Schold Linnér, Max Morén, Karl-Oskar Smed, Johan Nysjö, Robin Strand LatticeLibrary and BccFccRaycaster: Software for processing and viewing 3D data on optimal sampling lattices, SoftwareX, Volume 5, Pages 16–24 2016
Current collaboration partners:
Håkan Ahlström, Faculty of Medicine, Uppsala University
Joel Kullberg, Faculty of Medicine, Uppsala University
Punam Saha, University of Iowa, US
Krzysztof C. Ciesielski, West Virginia University and University of Pennsylvania
Tufve Nyholm, Medical Faculty, Uppsala University
Benedek Nagy, Eastern Mediterranean University, Turkey
Filip Malmberg, Uppsala University
Johan Wikström, Faculty of Medicine, Uppsala University
Elna-Marie Larsson, Faculty of Medicine, Uppsala University